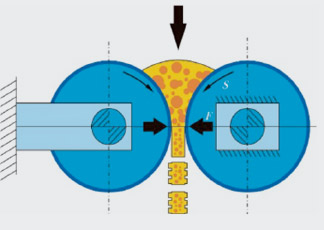 CLM series HPGR is a kind of grinding equipment designed based on the principle of material bed comminution, mainly composed of frame, roller assembly, hydraulic system, feeding device, control system, drive system and so on. The roller assembly is divided into floating roller assembly and fixed roller assembly. The two roller assemblies rotate reciprocally slowly, and the floating roller assembly can move horizontally on the frame guide rail through the pressure of the hydraulic cylinder, so that the materials feeding into the gap between the two rollers continuously are crushed, and the grinded material cake falls out of the HPGR.
02
Structure Characteristics
Self-generated wear protection technology of roller surface forms self-generated wear protection layer in the process of use, which guarantees a long service life. Online maintenance of roller surface is simple with a short time and low cost, and roller sleeve can be replaced. The design concept of constant roller gap control with a certain pressure range, and the optimization control technology of high pressure roller load, have solved the shutting down problem of traditional HPGR due to material segregation and current out-of-tolerance, and improved the productivity and economy while ensuring the material extrusion effect. Automatic control system based on distributed fuzzy control principle and integrated with special components from world famous suppliers can be controlled on site or in CCR remotely, which is simple, stable, safe and reliable.